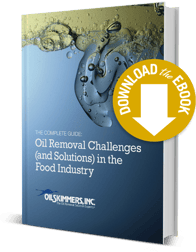 The massive food and beverage industry has a consistent problem—removing fat, oil and grease (FOG) from wastewater. For companies from meat processors to beverage canners, FOG on wastewater can increase water treatment costs, inflate water discharge costs, cause compliance issues and result in missed opportunity for a potential new revenue source.
For the food and beverage industry, what are the most costly issues associated with oily water issues? And, what are the best solutions for solving the problem?
In this ebook, The Oil Removal Solution Experts® answer these questions and more, including:
Where does the fat, oil and grease come from?
How do others in your industry segment remove FOG from water?
How can you determine the right oil removal solution?
To download the ebook and discover the cost-saving solution to oily water, complete the form.
For more information, visit OilSkim.com, or call us at (440) 237-4600