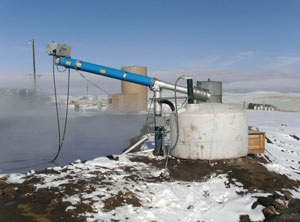 Did you know that insulated and heated oil skimming equipment enables
continued skimming, even in temperatures as cold as -20°F (-29°C)?
Oil Skimmers, Inc. offers a variety of winterization options that can work with already-installed skimmers to enable your facility to skim oil from wastewater on a continuous basis, all winter long.
A 300W heat rod can be added to the Model 6V Brill™ oil skimmer unit, and a 200W pan heater can be equipped for the Model 5H oil skimmer. For mounts with a sludge pan, the pan can be heated to keep recovered oil flowing to the collection vessel. For cantilever or boom mounted systems, the booms can be lined with heat tracing and insulation, and heaters can be added to the spout. Weatherproof junction boxes can be secured at the skimmer point and swivel location on the boom, and insulation can be added, along with a weatherproof cover.
If a decanter is used, it can also be furnished with a 300W heat rod.
Not sure how best to winterize your skimming equipment?
Oil Skimmers, Inc. offers complete winterization packages for the Brill Model 6V and Model 5H oil skimmers, including:
Skimmer heat rods
Sludge pan heaters
Insulated weather & wind Jackets
Spout heaters
Heat tracing (10W/ft)
Insulation with protective covering
Programmable thermostats
Being prepared for harsh weather conditions is the best way to ensure your facility can continue skimming operations, uninterrupted.
Request a Quote today by submitting the form to the right, or click the links below for more information on winterizing your skimmer:
Winterization Blog Post | Winterization Page at oilskim.com
Order a winterization package for your Model 6V and save 20%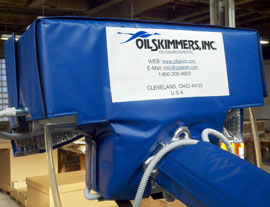 There's plenty of harsh weather still ahead of us, so keep your Model 6V skimming solution running smoothly with a 6V Winterization Package. The package includes:
Insulated Weather & Wind Jacket (for Model 6V only)
300W Skimmer Heat Rod
Sludge Pan Heater (if applicable)
Call us at 1-800-200-4603 and mention the special promo code WINTER20 when placing your order to save 20%
Or Submit the Request a Quote form to the right and include WINTER20 in the Application Details section.
Offer expires 2/29/16