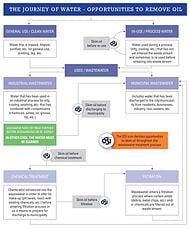 Early removal of oil from your facility's wastewater can improve operation efficiencies, generate revenue, demonstrate environmental responsibility and even promote employee health.
Today's manufacturing and industrial processing facilities face intense competitive pressures, challenging economic conditions and stringent government regulations. To thrive, companies must engage in operational "best practices" designed to continuously improve process and product quality and reduce costs.
An often overlooked method of process improvement is to remove oil from your facility's wastewater or process stream as soon as possible, preferably using a highly cost effective "tube type" oil skimmer. Properly applying a tube type skimmer can pay for itself within a few months by improving operational efficiencies, promoting employee and environmental wellness and generating new revenue.
In the whitepaper:
Why Should You Remove Oil Earlier?
Focus on Process Water
Focus on Wastewater
Focus on Waste Oil Recycling - An Unexpected Source of Revenue
Focus on the Environment and Employee Health and Safety
INFOGRAPHIC: The Journey of Water - Opportunities to Skim Oil
For more information, visit OilSkim.com,
or call us at 440-237-4600